Frempind Bike Attitude 25,4 110 mm Stamme 180 mm Sølv Justerbar AL828
Frempind Bike Attitude 25,4 110 mm Stamme 180 mm Sølv Justerbar AL828
Security policy

Delivery policy

Return policy


FRI LEVERING
På alle ordre (gælder ikke cykler) over 500,-

LEVERES 100% SAMLET
Vi samler din nye cykel for dig
7 FORRETNINGER I
KØBENHAVN
Kom ind og kig

RENTE- OG GEBYRFRI FINANSIERING
Ansøg nu
No customer reviews for the moment.

MÅSKE VIL DU OGSÅ VÆRE INTERESSERET I DISSE PRODUKTER?
16 other products in the same category
Jupiter Ekstra Cykler A/S er stiftet i 2011 og består udover webshoppen Jupiter-Ekstra.dk, af 4 moderne cykelforretninger i København. Vores forretninger har alle cykelværksteder med kompetent og faglært personale, som hver dag yder rådgivning og service til mange københavnske cyklister.
Hos Jupiter Ekstra er vi af den opfattelse, at sublim kundeservice er vejen til tilfredse og tilbagevendende kunder. Derfor arbejder vi løbende med at uddanne både vores værksteds- og salgspersonale i nyeste teknologier og tendenser indenfor cykelverdenen. Vi ved dog også at en god handel er et kriterie for mange, så vi regner derfor gerne på om vi også kan lave en ekstra god pris til dig.
Ønsker du rådgivning eller har du spørgsmål til vores produkter eller services, er du altid velkommen i vores forretninger eller til at kontakte vores kundeservice på Tlf. 43 96 03 17 samt mail glostrup@jupiterekstra.dk. Vi glæder os til at hjælpe dig godt på vej.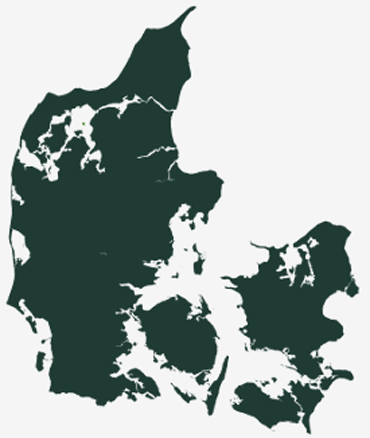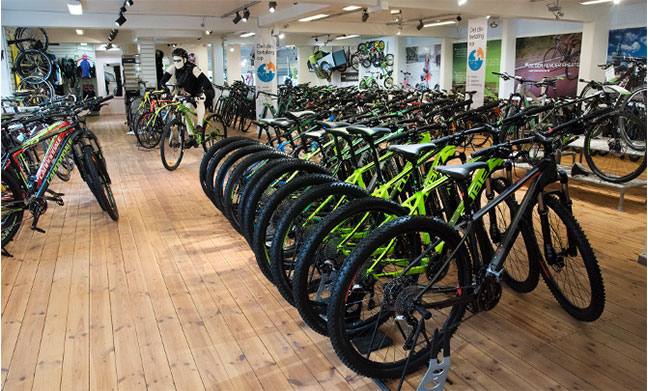 LEVERINGSTID & RETURNERING
Få Dages Levering På Lagervarer
Ved bestilling af lagervarer hos Jupiter Ekstra, kan du forvente en leveringstid på 2-5 hverdage for både cykler og udstyr. Du vil opleve at nogle produkter og produktgrupper på vores webshop er anført med en længere leveringstid.
Bemærk at der ved bestilling af ladcykler i perioder kan forekomme lidt længere leveringstid grundet travlhed på vores værksteder. Vi kontakter dig derfor ved bestilling med en estimeret leveringstid.
Altid 14 Dages Returret
Hos Jupiter-Ekstra.dk har du selvfølgelig altid 14 dages returret fra levering af din ordre – du kan derfor roligt se og prøve din nye cykel derhjemme, før du endeligt beslutter dig og tager den i brug.
Bemærk at fortrydelsesretten kun kan benyttes såfremt cyklen eller varen returneres i samme tilstand, mængde og emballage som ved levering. Tages cyklen eller varen i brug i en sådan grad at dens salgsværdi helt åbenbart forringes, bortfalder fortrydelsesretten derfor herved.
Ved returnering betales hele købsbeløbet tilbage. Fortryder dit køb hos Jupiter-Ekstra.dk indenfor fortrydelsesfristen og ønsker at returnere, vil den eneste udgift forbundet være porto for at sende cyklen eller pakken retur til vores lager.
Bor du i nærheden af vores 7 forretninger i København, efterspænder vi gratis din nye cykel købt hos os inden for de første 3 måneder fra levering.
Levering af Cykler og Udstyr
Fri levering på ordrer (gælder ikke cykler) over 500,-!
Vi tilbyder levering på alle vores cykler og fri levering på øvrige ordrer over DKK 500 til brofaste øer i hele Danmark. Ønsker du at afhente din nye cykel eller ordre i en af vores 7 Forretninger i København, vælger du blot i hvilken forretning ordren skal kunne afhentes, når du betaler her på Jupiter-ekstra.dk.
Cykler Leveres
100%
Samlet & Køreklar
Når du bestiller din nye cykel eller ladcykel på Jupiter-Ekstra.dk leverer vi den selvfølgelig 100% samlet, justeret og køreklar, direkte til din ønskede adresse. Har du bestilt udstyr så som lås, bagagebærer, kurv eller skærme til din nye cykel, monterer vores faglærte værkstedspersonale det selvfølgelig gratis for dig forud for levering.
Bor du i nærheden af vores 7 forretninger i København, efterspænder vi gratis din nye cykel købt hos os inden for de første 3 måneder fra levering.